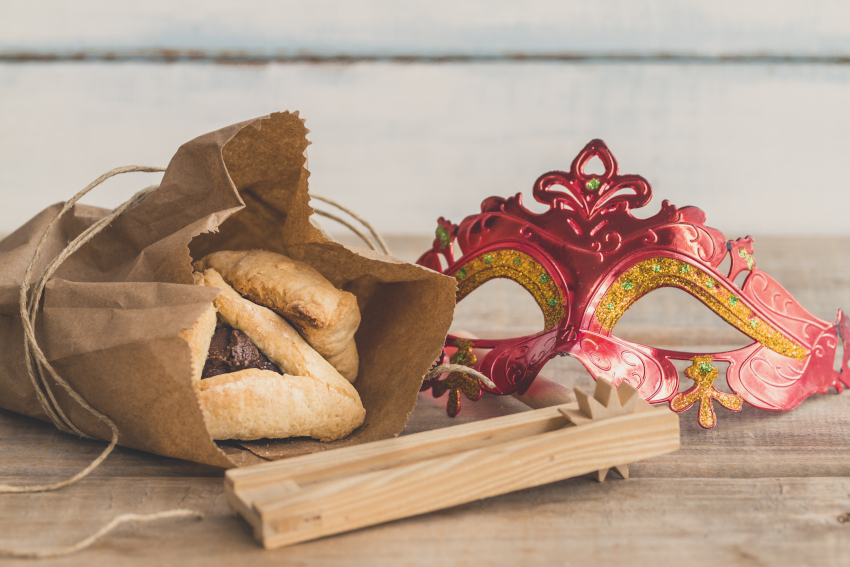 Dear Friends,

This year being an unusual year with Covid, and Purim falling on a Friday, there are a few halachot that you should be aware of.

Shabbat Zachor

This week the Shabbat that precedes Purim, besides the regular weekly Torah portion that is read (Terumah), we take out an additional Sefer Torah to read Parashat Zachor, to remind us of what Amalek did to the Jews. It is specifically read on the Shabbat that precedes Purim to juxtapose its reading to what Haman, a descendant of Amalek, perpetrated and also to remember the eradication of Amalek before actually doing so.

Unlike any other, this reading is a Biblical obligation, hence the custom on a regular year that both men and women come to Synagogue on Shabbat morning to hear the Torah reading. This year due to the pandemic, the Rabbis recommend that we rely on the lenient opinions that women are exempt from hearing Zachor.

Taanit Esther (Thursday, February 25, 2021)

Don't forget to join us via zoom for our Purim event 'Megillah Unmasked,' which promises to be a good laugh at 8:30 pm.

Machatzit Hashekel

Before Mincha on the fast of Esther (Thursday, or throughout Purim day if one forgot), the custom is for every male over the age of 13 to give charity in memory of the half a shekel (of Biblical times). The prevalent Sephardic custom is to give a coin that is called a 'half,' which contains the amount of pure silver that the half a shekel had (10 grams of silver), which according to today's rate, is $10. The Ashkenazic custom and relevant if one cannot give this much money is to give half of the local currency (half a dollar). It is appropriate for women also to give the Machatzit Hashekel. Some have the custom to also give on behalf of their family members under Bar & Bat Mitzvah. You can make your donations online this year – visit our PURIM DONATIONS page.

Purim (Thursday evening, February 25, 2021 – Friday, February 26, 2021)

READING OF THE SCROLL OF ESTHER
Kriat Megillah
Reading the Megillah is the most important mitzvah of Purim.
The Megillah must be read from a kosher scroll written in accordance with Halachah.
The Megillah must be read at night and re-read the following morning.
At both those times, everyone is obligated to read the Megillah or hear it read on their behalf.
This obligation extends to women since they were also saved from Haman's evil decree and applies to children as it forms part of their education. However, this year children should not be brought to the outdoor reading due to social distancing and space restrictions.
The reader and the audience must have the intent to fulfill the mitzvah of reading and to fulfill the obligation of the blessings before and after.
Before reading the Megillah at night, the Chazzan recites three blessings: Al Mirka Megillah, She'asah Nissim & Shehecheyanu. In the blessing of Shehecheyanu, one should have the intention that it also applies to the other Mitzvot one is obligated to fulfill on Purim (Mishloach Manot, Matanot La'evyonim, and Seudat Purim).
On the following morning, the reader only says the first two blessings before reading the Megillah.
The custom is that the congregation says the following verses of salvation aloud: Ish Yehudi (2:5), Balylah Hahu (6:1), U'Mordechai yatzah (8:15), Layehudim hayetah (as 8:16) & the final verse, Ki Mordechai Hayehudi (10:3). The Chazzan then repeats each verse to ensure that the entire Megillah is read from a kosher Megillah.
One must ensure to listen carefully to the whole reading as if one misses out even one single word, one does not fulfill their obligation.
The custom is to stamp with one's feet whenever the reader mentions the name Haman throughout the Megillah.
Even if one does not understand what is being said or read, one has fulfilled their obligation.
After the reading is completed, the Megillah should be rolled up. The custom is to recite the blessing: Harav et rivenu then. Care should be taken that one does not roll the Megillah while the blessing is being said.
It is forbidden to speak from the time of the blessings before the reading until the end of the blessings after the reading.
One should ideally not break the fast at night until after the Megillah reading.
There will be two Megillah readings held in the outdoor tent with appropriate social distancing at night and by day.
The Megillah reading will be live-streamed via Zoom on Thursday night beginning at 6:25 PM and on Friday morning beginning at 8:00 AM.

Please note there has been much rabbinic debate about whether one can fulfill one's obligation of hearing the Megillah via Zoom. The broad consensus of the leading Sephardic Rabbis is that one can not fulfil one's obligation via Zoom. However, for those that can't attend and want to at least participate in the reading this year, please join us HERE (meeting ID 778 951 2288)
GIFTS TO FRIENDS
Mishloach Manot
Every Jew, both men and women, are obligated to give at least one gift to one fellow Jew. However, it is praiseworthy to give more.
The gift must consist of at least two items of food or drink, ideally ready to eat.
The obligation is only fulfilled if one gave it during the day, not the night before.
This year one should limit interactions due to Covid and only the minimum requirement be fulfilled, and instead give more money to the poor (matanot la'evyonim).
GIFTS TO THE POOR
Matanot La'evyonim
Both men and women are obligated to give a gift of money, sufficient for one meal ($20), to at least two poor people ($40), the more, the merrier.
The gifts may be given to a third party to distribute on the day of Purim. Matanot La'evyonim can be given to the Rabbi to be distributed to the poor on Purim day. You can make your donations online this year – visit our PURIM DONATIONS page.
Rambam writes that more should be spent on gifts to the poor (Matanot La'evyonim), than on elaborate gifts to many friends (Mishloach Manot) and a lavish feast (Seudah).
THE FESTIVE MEAL
Seudat Purim
It is obligatory to partake in a festive meal on the day of Purim, preferably with bread and meat. The majority of the meal should be during daylight.
This year being Friday, Seudat Purim should ideally begin before midday to honour Shabbat by eating the Shabbat meal with an appetite. Chatzot/midday is at 12:25 pm.
One should drink more wine than one is accustomed to.
Wishing you a Shabbat Shalom and Happy Purim!
Rabbi Shlomo Gabay
---
You may also like: